NEWS & VIEWS

If members have points to add to this page please send them to davidnhall@btinternet.com The Web Master cannot guarantee to publish everything sent. Photographs, especially where illustrating a point, are welcome. This page was last amended: Tuesday, 21 November 2017
Desert Dinner 17 November 2017
The Desert Dinner 2017 was held at the De Vere Cotswold Water Park Hotel. The event started with drinks and a very short AGM in an area comfortably set aside for the desert party. Dinner was in a room just the right size for about thirty of us. Tanya Burton gave a thrilling account of her crossing the Suguta Valley in Kenya, and then everyone talked and talked - largely about deserts. Nearly all those present were staying in the hotel, and so the journey to bed was just a few steps along the corridor. An excellent evening for all.
Desert Dinner 4 November 2016
The Desert Dinner 2016 was held in the great surroundings of the Picture Gallery of Royal Holloway (picture left), near Egham, Surrey, on Friday 4 November 2016. Adam Gibson from University College London, the Club's Secretary, took great trouble making the detailed arrangements.
Our chief guest was Stephen Cox CVO, Chair of Council of Royal Holloway. Before dinner he kindly showed the members the highly decorated College Chapel. After dinner David Hall spoke about the formation of the Club in November 1981 at a grand dinner at the Headquarters Royal Engineers Mess at Chatham when members brought maps, photographs and artefacts to form an interesting exhibition. He also described the Zerzura Club formed by R A Bagnold and other explorers at Wadi Halfa in 1930, the war bringing an end to their meetings. He talked, briefly, too about the Zerzura Club based in Italy. Those present asked that the Club's greetings should be sent to the new Zerzura Club. Mention was made of Professor Andrew Goudie's new publication, Great Desert Explorers. A message had been received from Admiral John Trewby sending best wishes from a desert in the southern hemesphere, while it was noted that Andras Zboray was deep in a desert in the northern hemesphere.

Desert books for Members' Room at the RGS
David Hall has placed part of his collection of books about deserts onto the shelves in the RGS Members' Room. He is keeping some, such as Bagnold's Libyan Sands and his Physics of blown Sand and Desert Dunes for a later date! Other members of the Club may wish to add to the collection at the RGS.

Some fairly recent books
Another desert book by Andrew Goudie. Great Desert Explorers. If not bought instantly it's definitely one for your birthday list. http://www.oxbowbooks.com/oxbow/great-desert-explorers.html

John Hare's 2011 Expedition. John Hare searched for and found wild camels in the Taklamakan Desert, crossing extremely rugged country. See his report and a couple of photographs
Clayton's craters
The craters in the Libyan Desert near Gebel Uweinat have long been a source of interest. Dr Kenneth Sandford wrote them up after the 1934 Bagnold Expedition. András Zboray provides much interesting detail and photographs at http://www.fjexpeditions.com/frameset/craters.htm.
Dinner at the Royal Botanic Gardens, Kew 1986 This photograph was taken when the Desert Dining Club and the Rain Forest Club met for dinner at Kew on 16 July 1986. 37 members of the Rain Forest Club and 39 members of the Desert Dining Club attended. The glass house behind is the Princess of Wales Conservatory, and it had only recently been opened, but provided climates for both clubs.
Some recollections of members.


Dinner at the Royal Botanic Gardens, Kew 2012. The Desert Dining Club and the Rain Forest Club joined together for an evening at Kew. The dinner was preceded by a tour of the Gardens, and photographs were taken in the Olympic Rings.
Report of visit to Gebels Arkenu and to Bahari in SE Libya by András Zboray. Splendid photographs of fabulous rock paintings and carvings, and interesting reports and comments. Go to: http://www.fjexpeditions.com/expeditions/past/oct03/oct03.htm
Andrew Goudie has produced Wheels across the desert - exploration of the Libyan Desert by motorcar 1916 - 1942. Published by Silphium Books, an imprint of the Society for Libyan Studies. ISBN 978-1-900971-07-2.

Professor Diane Gifford-Gonzalez assumed general editorship of the monograph on the death of Professor J Desmond Clark: Adrar Bous - Archaeology of a Central Saharan Granite Ring Structure Complex in Niger. Important contributions are made by Professor Martin Williams and Professor Andrew Smith who worked on the expedition. David Hall provides a preface. Published by The Royal Museum
for Central Africa, Tervuren. ISBN 978-9-0747-5243-5. It illustrates the worthiness of all the work to all members of the expedition, some of whom are members of the Desert Dining Club.
Book list - other deserts
Does any member have interesting reading lists of particular deserts to contribute?

Registered name now www.desertdiningclub.org.uk. Adam Gibson, Hon Secretary, has generously created and donated the above name to the web site. He has also provided an email address to be used for contacting the Web Master: info@desertdiningclub.org.uk.
Know more about camels. They can swim! John Hare was the first to offer material for the web site.
Those who missed hearing his account of an exciting camel journey in Kenya, can read about it here. He also provides a newsletter from the Wild Camel Protection Foundation of which he is Founding Chairman. Picture of racing baby camels which followed a camel polo match in Laikipia, Kenya to raise funds for the wild camel cause.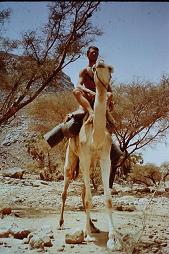 List of dates of venues
The History page of the web site now has a link to a full list of venues for dinners in the Club's first 30 years.



Photo right: John Rogers on his feisty camel

Other relevant clubs
The Arctic Club: www.arcticclub.org.uk
The Geographical Club: http://www.thegeographicalclub.org/
The Rain Forest Club: http://www.tropicalforests.ox.ac.uk/members/rainforest-club
The Zerzura Club: http://www.zerzuraclub.org/

Other sites of possible interest:
Do you have an interesting site to be added?
University of Manchester desert database http://www.narg.org.uk/africandatabase/
UMEP Global Desert Outlook http://www.unep.org/geo/gdoutlook/110.asp
Desert Fox Overland http://www.desertfoxoverland.co.uk/
Expeditions and wild camel conservation developments in the Gobi deserts of China and Mongolia: www.wildcamels.com
Society for Libyan Studies: www.britac.ac.uk/institutes/libya
Andras Zorbay's expeditions: www.fjexpeditions.com

Member's web sites Any member wishing to have a personal web site included, email info@desertdiningclub.org.uk

John Hare: http://www.johnhare.org.uk/
Robin Hanbury-Tenison: www.robinsbooks.co.uk
Richard Snailham: www.aceculturaltours.co.uk/lecturer/2413‎
Nigel Winser: www.britishexplorers.org/index.php/members/membersDetail/21
David N Hall: http://www.davidnhall.org.uk
Adam Gibson: www.ucl.ac.uk/medphys/staff/people/agibson
András Zboray: www.fjexpeditions.com
Kit Constable Maxwell: http://www.kitmax.com/kit06_biography.htm
This free script provided by
JavaScript Ki